One Validation
Platform for All
Res_Q is an extremely easy-to-use solution for managing all your GxP systems.
Purpose-built, cost-efficient, and always audit-ready
Res_Q: Workflow Process Automation for GxP Systems
Res_Q automates, integrates, and scales compliance processes across organizations – enabling painless adoption of technologies for life sciences and medical device. With Res_Q, companies can ensure consistency in compliance across their organization and reside in a state of audit readiness.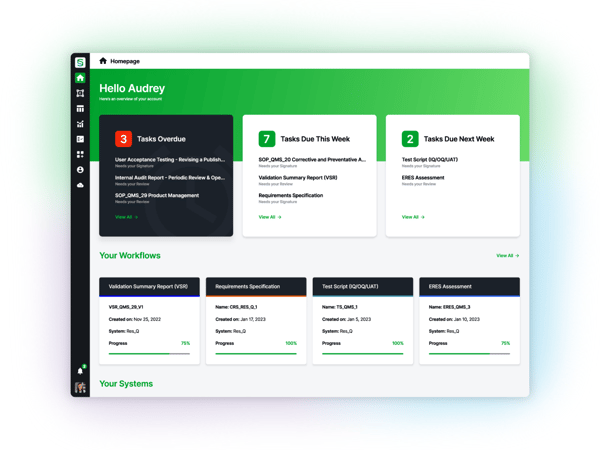 One Source
Bring together the key data you need to be always audit-ready

Scale Quicker
Launch your quality program and focus on growth milestones

Implement Faster
Reduce the time it takes to
adopt solutions

Increase Value
Deliver more releases while decreasing the burden on customers
With Res_Q, we're aligned and able to manage releases of multiple systems across our enterprise with ease – enabling us to maintain compliance overall.
– Leading Pharma Manufacturer
Highlight Feature
Pre-built Compliance Modules
Providing a starting point from which to validate, Sware offers pre-built compliance modules for more than 30 life sciences systems. These modules provide content you can easily edit, accelerating your compliance and speeding up implementation to get your team up and running quickly.
Built by Validation Experts
We're on a mission

to make validation

paperless, seamless, and stressless. That's why

we include a growing marketplace of pre-built compliance modules and ready-to-use templates, SOPs, test scripts, and workflows in an intuitive interface that empowers your teams to accelerate validation end-to-end.
275
+
Companies Moved to the Regulated Cloud
700
+
Unique
Implementations
150
+
Quality System
Upgrades
30
+
Different Supported Systems
Validation to Sware by
Res_Q was built to serve the unique, complex requirements that validation systems demand. Leverage our intelligent workflow process automation platform and our deep compliance expertise to your benefit — reach out today to schedule a no-pressure session. We're here to help you.