Validation Automation for
Regulated Systems.

Discover why innovative startups and top-tier life sciences leaders alike rely on the Res_Q™ platform. It's their single source of validation truth to release more products, accelerate implementation, and ensure end-to-end compliance.
Built by Validation Experts
for Validation Experts
Sware has partnered with more than 275 life sciences companies to make the move to the regulated cloud and Res_Q is the compliance engine of choice behind some of the world's leading software developers for regulated apps.
NEWS

BTR ( Now Sware) Raises $15 Million in Series A Round to Transform the Validation Process for Life Sciences

//

Read More
"The paperwork is bloody daunting… it used to take over 400 hours for each validation pack on a release. Before Sware, we were updating and maintaining Microsoft Word* documents manually, pushing out to DocuSign* and then scanning on the other side so a human can pen-and-ink all this."
Discover the Res_Q Platform:
Simply a Better Way to Validate
We've been there. We know compliant validation is hard work. That's why we've built the platform we wish we always had
Res_Q features pre-built Compliance Modules for intelligent workflow automation, structured risk assessments, and automated testing for more than 30 systems across the life sciences ecosystem. We partner closely with you every step of the way to help you accelerate compliance and deliver speed to users across the enterprise.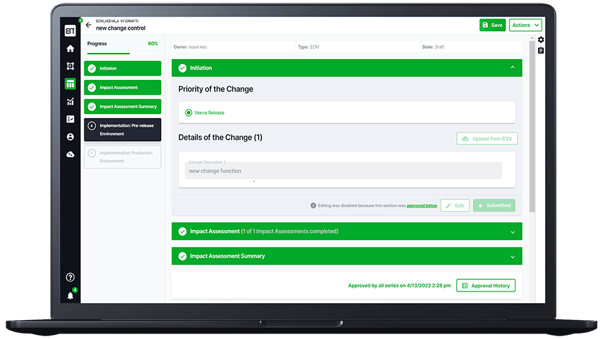 Features Built to Fast-Track Validation
Workflow
Builder
Drag-&-drop content modules reduce re-work & time to validation
Intelligent Impact
Assessments
Eliminates guesswork & re-work for validation tasks
Requirements Specification Manager
Create, connect, & execute reqs & test scripts to speed approvals
Validation Overview
Smart view of active validation workflows & tasks at-hand
User-Defined Workspace
Tailored access to improve team efficiency
Test Script Manager
Quickly access script templates & create test scripts to speed validation
Workflow Dashboard
& Reports
At-a-glance access & notifications of active workflows speeds throughout times
Enterprise-Level Admin Features
One console to serve as validation air-traffic-controller to entire validation lifecycle
Marketplace and
Content Library
Growing app store speeds implementations
One Mission. One Platform. One Process.
We're on a mission to make Computer System Validation (CSV) paperless, seamless, and stressless. That's why we include a growing marketplace of pre-built compliance modules and ready-to-use templates, SOPs, test scripts, and workflows in an intuitive interface that empowers your teams to accelerate validation end-to-end.
275
+
Companies Moved to the Regulated Cloud
700
+
Unique
Implementations
150
+
Quality System
Upgrades
30
+
Different Systems
Supported
Accelerate Your Digital Transformation
Speed Matters // Res_Q Delivers
Equip your teams to accelerate software validation, drive adoption, and scale faster—profitably.
DEVELOP
Works with
30+ Different Systems
for regulated applications
IMPLEMENT
Up to
30%
Faster
RELEASE
With
80%
Less Effort
Investor Highlight
Behind The Investment: BTR (Now Sware) – Computer System Validation, Automated
We could not be more thrilled to be leading BTR's $15M Series A with participation from existing investors LRV Health, New Stack, and Jumpstart, and I personally could not be more proud to serve as Board Director on behalf of Insight Partners. Now, post-investment we remain eager to double down on BTR's rapid commercialization as they continue to shape the future of automated Computer System Validation – this is just the beginning!
Put your validation on the
launch pad to productivity
If you're ready to bring software validation under control and boost your bottom line, let's get together.